Responsible for steering Legrand's growth, the Executive Committee is a team of 8 members with complementary and varied skills, which brings together operational and support functions. With an extensive Group background, all of its members have an in-depth knowledge of Legrand, its business and its stakes. In addition to French, two other nationalities are represented, American and Italian, in line with the history and distribution of the Group's business.
Benoît Coquart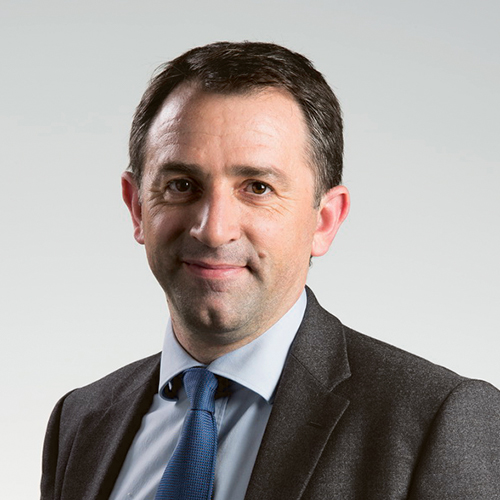 CHIEF EXECUTIVE OFFICER
Benoît Coquart, born on November 30, 1973, is a graduate of the Institut d'Etudes Politiques de Paris (Sciences Po Paris) and of French business school ESSEC. He joined Legrand immediately after completing his studies in 1997, to manage the Group's activities in South Korea. Gilles Schnepp, currently Chairman of Legrand's Board of Directors, then asked him to head up Investor Relations. Pursuing his career within the Group, Benoît Coquart successfully held several positions, including Vice-President of Corporate Development (M&A), Executive Vice-President Strategy and Development, and Executive Vice-President France. Benoît Coquart has been a member of Legrand's Executive Committee since 2010 and was appointed Chief Executive Officer in 2018.
Besides Benoît Coquart, the Executive Committee comprises the following members:
Karine Alquier-Caro

​
EXECUTIVE VP PURCHASING
Born on January 7, 1972, Karine Alquier-Caro graduated from HEC Paris (1994). She joined the Group in 2001 after a 7-year experience at Deloitte as a Financial Auditor in France and Canada. After several experiences as CFO of Legrand industrial and commercial entities, Karine Alquier-Caro was appointed VP Chief Operating Officer of the Group Export sales organization in October 2012. She was appointed Executive VP Group Purchasing in April 2015.
Bénédicte Bahier

​
EXECUTIVE VP HUMAN RESOURCES
A graduate of ESSEC business school and a qualified lawyer, Bénédicte Bahier began working in 2002 as a business lawyer with the law firm Linklaters. She joined Legrand in 2007 as legal expert in charge of corporate and governance related aspects, before holding positions as Risk Manager and Legal Manager. She was appointed Group VP Legal Affairs in 2012, and then became Executive VP Human Resources in 2018.
Antoine Burel

​
EXECUTIVE VP AND GROUP CHIEF FINANCIAL OFFICER
Born on December 22, 1962, Antoine Burel joined the Group in 1993 as Finance Controller and later became Chief Financial Officer at Legrand Normandie. After gaining experience at several subsidiaries, he was appointed Head of Group Finance Control in 2005. He was appointed Group Chief Financial Officer in January 2008.
Paolo Perino
​
CHAIRMAN OF BTICINO AND EXECUTIVE VP STRATEGY AND DEVELOPMENT
Born on February 27, 1954, Paolo Perino joined BTicino Italy in 1983 as Product Manager (BTicino became part of the Legrand Group in 1989). He was subsequently appointed Marketing Manager, Marketing VP and then Sales VP of BTicino Italy. In 1996, he took on the role of Director and later of General Manager of Legrand SpA, an Italian subsidiary of the Legrand Group. In 2000, he was appointed Group VP Marketing and External Communication. In 2006, he took over the General Management of BTicino. In 2014, he took over the management of the new Building Systems SBU while remaining Chairman of BTicino.
John Selldorff

​
PRESIDENT AND CHIEF EXECUTIVE OFFICER OF LEGRAND NORTH & CENTRAL AMERICA
Born on January 16, 1960, John Selldorff joined Legrand in 2002 to take on the position of President and Chief Executive Officer, Legrand North America.
Patrice Soudan

​
DEPUTY CHIEF EXECUTIVE OFFICER, EXECUTIVE VP GROUP OPERATIONS
Born on September 29, 1958, Patrice Soudan joined Legrand in 1990 as Finance Controller for international subsidiaries. He successively held the positions of Head of Finance Control, VP Group Finance Control and Group CFO from 2001 to early 2008, before taking over the management of the Wiring Devices and Home Systems Division. In 2014, he was appointed Executive VP Group Operations, in charge of all of the Group's industrial organization covering 7 SBUs.
Frédéric Xerri

​
EXECUTIVE VP EUROPE
Born on May 23, 1969, he joined Legrand in 1992, holding various positions in marketing in Germany and France until 1999, when he took charge of a Strategic Business Area at the Group Marketing Department. In 2003, he moved to Russia as Sales Director, and later Country Manager (2005). He moved to the Export Department in 2010, taking on the position of Deputy VP Export before being appointed Group VP Export in 2012. In 2018, he was appointed Executive VP Europe.